High Performance Windows and Doors
Driving the Benchmark "Lower" for Schools and Multi-Family Buildings
By Aynsley Dueck, Operations Manager at DUXTON Windows & Doors
For those of us who are living and breathing U-values day-to-day, (and that number is small but growing), the concept of a "lower" benchmark will resonate. As the climate crisis continues to bear a larger impact on building design, the typically weakest link – windows and doors – need to meet the demand.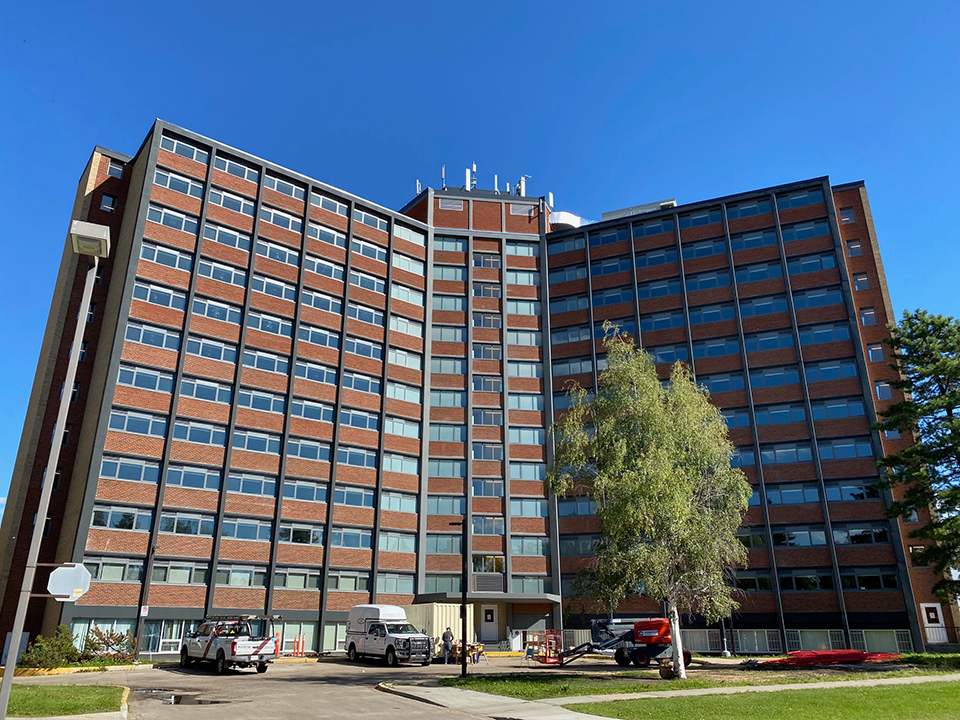 Although commercial projects tend to favour aluminum frames for their durability and aesthetics, they are becoming a less logical solution. Aluminum transfers hot/cold easily, which makes for a less-than-ideal thermal insulator. This is where fiberglass and vinyl have some inherent benefits, and wood, to some degree. Fiberglass continues to offer further benefits in durability than some hybrid products. Where vinyl may meet structural requirements on some low- to medium-rise buildings, the material characteristics can require substantial steel inserts, that are often not properly identified in u-value reports. NFRC (National Fenestration Rating Council) requires performance on an "individual box" basis, as opposed to full assemblies where reinforcing is often required. The beauty of a fiberglass system is that it achieves both the u-value and the strength in the same breath.
Canada's national energy code is headed towards a more and more aggressive approach for fenestration, and most systems will need to continue to improve to meet the long-term needs of the building industry. The long-term u-value target is being influenced by Passive House, and certainly British Columbia's step code. Fiberglass frames and triple pane with 2 Low-E coatings are well positioned to meet the upcoming demands.
Now, trying to slot in non-combustible systems into the picture, becomes the next major challenge. Currently, aluminum products fulfill the code, but with recent successful industry testing of fiberglass and vinyl systems, the building code is undergoing a change to accept these other products. As various provinces ultimately adopt the new code, this will be a new norm, but in the interim, it requires a specific approval dependent on the particular project.
A huge topic in specifying windows and doors revolves around preventing glass breakage. This may be to prevent a break-and-enter, to reduce vandalism, to reduce the cost of maintenance, and/or to avoid having plywood in the windows for an extended period of time, to name a few. Specifications for schools and sometimes multi-family housing, often include 6mm triple pane configurations or more.
You may combine the above solutions in situations with a higher risk of vandalism, or more remote locations. For example, we often see a Steel Security Screen in combination with 6 mm tempered, or a 10 mm Lexan Sull Sash with 10 mm Tempered Glass.
Solution to Avoid Glass Breakage
Ability to Prevent Glass Breakage
Visibility
Cleanability
Accessibility
Relative Cost
Expanded Metal Mesh
Excellent
Poor
Does not look as inviting
Difficult
Average
Substantial weight challenges
High
Steel Security Screen
Excellent
Very Good
Much improved over Expanded Mesh
Average
Good
Very High
Lexan Sull Sash
Very Good
Can be scratched or burned
Good
Average
Very Good
Medium-High
6 mm Tempered (exterior lite)
Good
Excellent
Excellent
Very Good
Medium
8 mm Tempered (exterior lite)
Very good
Excellent
Excellent
Good
High
10 mm Tempered
(exterior lite)
Very good
Excellent
Excellent
Difficult
Less availability
Very high
Some products may have limitations, however; the glazing pocket needs to be large enough to fit a 6 mm triple, for example. To have reasonable airspaces and a low u-value, you need a minimum 1.5" OD, and in some cases, even a 2" OD. Trying to fit these thicker glazing configurations into a standard dual pocket of 7/8" will often not be achievable, or the configuration needs to change to thinner glass, and/or narrower airspaces.
From a structural/wind loading point of view, two factors will typically influence a window specification: the building's number of storeys; and size of the opening, among other considerations. The number of storeys can have a significant bearing on the product series, type, and glass thickness. One owner of many residential high-rise buildings actually commented, "We used to use vinyl but we could hear it creaking and it just wasn't tough enough. We switched to fiberglass to avoid the maintenance and have the longer-term durability."
Regarding the size of the opening, we are finding that openings are generally getting larger. Designers are trying to bring in more natural light, whether it's for a more pleasant school atmosphere, or more natural light through a home, with bigger views. These large openings often need a deeper frame system to be able to meet the structural integrity required. While many systems in the market are designed at a 3 ¼" frame depth (added jamb extensions do not add to the strength), they are often not suited to this type of application, and a deeper system at 4.5 or 6.5" should be specified. The FiberWall™ product is an example of a more robust series, that aesthetically matches the lighter duty systems, but allows for the larger applications such as an 8×8' opening or a long, 9' strip of windows running the length of the building.
In multi-family applications on medium- to high-rise buildings, finding the appropriate balcony doors can be challenging. In replacement projects, we are often removing aluminum systems that are VERY drafty, but also generally feel cold. The trick is finding a warm, low u-value solution, that also meets the water and wind-loading criteria, and also provides for ease-of-use to the tenants. Once again, fiberglass offers a positive solution, from a swinging or sliding door perspective.
In a sliding door, it is important to find a system with a true 1 3/8" or larger pocket to hold triple pane glass. Further, to find heavy duty wheels to hold the weight, and allow tenants to easily move the sash. The ability to assemble doors on-site (KD or knock-down kits) may also be critical due to limited elevator space. To execute site-assembly or site-glazing properly, is CRUCIAL to work with an experienced installer with a long history in similar projects.
In a swinging door, features such as continuous weatherstripping and heavy duty multi-point locks, can stand up to challenging air and water specifications. More European mushroom-style multi-points not only latch in multiple locations, but they progressively pull in the door upon lifting the handle; latch in more locations, catching the corners more effectively; and allow for better adjustability.